28/4/15 - Digital Archaeologists Unearth Ancient Website
Yesterday digital effects artists working on a new Indiana Jones movie discovered an ancient artefact buried under the rubble from a CGI explosion. It is believed to be from the forgotten ante libro facies era of human history, where it appears that bands had strange presences known as "websites" and "MySpaces". With funding from an anonymous benefactor they have been able to restore the item and return it to its former hand-crafted-and-surprisingly-mobile-friendly HTML glory for current generations to enjoy.
4/4/06 - Thankyou, and Goodnight
The gig on the 31st was a great success! The band wishes to thank all who came along to Jive to see what could be the last Sledgehammock show for a long time.
Fortunately, none of the band members are deceased or suffering from any blinding eye diseases. This means you are welcome to continue sending abusive emails to mail@sledgehammock.com, or post comments on the Sledgehammock MySpace blog - they'll get read.
20/3/06 - Last Show
Make sure you're at Jive on Friday 31st March, the sad news is that it will be the last Sledgehammock show for the foreseeable future.
The good news is that with funksters The Tony Font Show and Qantum Kaos in the lineup, the night will be sure to be a killer.
24/2/06 - MySpace Is Officially Cool.
MySpace.com is the new black sliced bread iPod, apparently. Sledgehammock now have a presence there, so you can visit and spam the messageboards with crap about the health of your goldfish. No really, Sledgehammock genuinely does care about your pets, so head over there and let us taste your particular flavour of spam.
17/2/06 - Show at Goodwood was... Good
Sledgehammock would like to thank those who attended the three-set marathon show at the Goodwood Hotel on the 10th. A special thankyou goes out to those down the front rocking to Ghostbusters. That song went off!
Unfortunately, Perth band Thrust are unable to make it here to Adelaide for the show planned for the 28th, meaning that show has been cancelled. To make up for it, a show with Qantum Kaos and The Tony Font Show has been lined up for the 31st of March at Jive. This will certainly be a great Friday night out, so make sure you're there!
10/1/06 - Big Year Ahead
Two thousand and six is set to be a big year for the band, with three shows already booked for February. Check the SHOWS page for the dates and venues.
Highlights include a huge three-set show at the Goodwood Hotel, and a support show for the funk outfit Thrust, who will be visiting us from Perth.
13/10/05 - Sledgehammock Sell Out!
That's right, you can now buy your very own piece of Sledgehammock. The band has decided to discard their dignity in a pathetic grab for cash. Visit the SALE! page for more information.
9/10/05 - More Gig Dates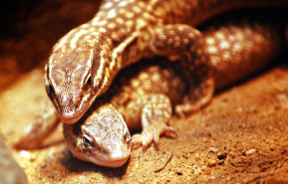 Sledgehammock continue their world tour of Adelaide by playing at the Lizzard Lounge over two stunning nights. Catch them on both Friday 14th and then the next weekend on Saturday 22nd of October.
The first show, with Concrete Child, will feature a "retro" set reviving several old songs, and some old cheap gimmicks.
The next show, eight days later is with friends Athletic Teenage Joggers and It Wasn't The Poison. The band will probably showcase the same songs, only this time wearing silly hats.
8/9/05 - Dairy Brothers Film Clip Launch Nears
The Sledgehammock, Dexter Jones and Dairy Brothers show at Jive is approaching. The Brothers will be handing out DVD's to the first 100 people through the door, so make sure you get there early!

13/7/05 - Sledgehammock Move from Exeter to Jive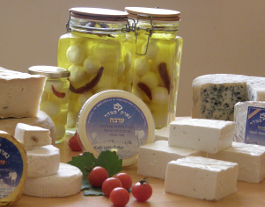 The guys from Sledgehammock will be drinking at The Exeter's beer garden on Saturday 27th August. To make a change from the regular Saturday night, they will also be getting off those rockin' barbeque seats to do some rockin' on the stage with some Athletic Teenage Joggers...
In September (Friday 16/9/05), the band will be bringing their cheese back to Jive with The Dairy Brothers. This show promises to be an entertaining night of milk powered power!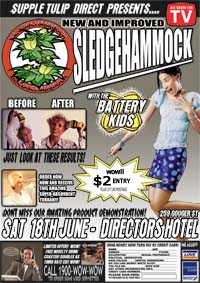 13/6/05 - Sledgehammock DO Exist!
STOP PRESS! Sledgehammock have been invited to play with the Battery Kids this Saturday night (18/6/05) at Directors on Gouger St, City. Come along to see the newest "New and Improved" Sledgehammock who will be playing some of their new material written during their time locked away in rehearsal earlier in the year.
14/2/05 - First Show for 2005 Yet To Be Announced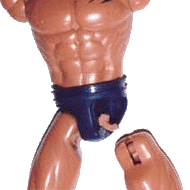 Sledgehammock have been strangely absent from the stage over the holiday period and people are starting to ask questions... Firstly, it should be stated that rumours of the band members joining Metallica are completely unfounded.
This website can confirm that an unspecified injury to the band's guitar-keyboard section is the reason behind Sledehammock's silence. The band is however taking the opportunity to compile some more new material ensuring that 2005 will be an exciting year for Sledgehammock fans.
Specific details of the injury may be announced once the band decides if breaking an ankle at a BloodDuster show is hardcore or not...
26/11/04 - Get Off The Couch and Watch TV Standing Up
Adelaide's Off The Couch festival is on this friday at various times and various venues on Hindley St showcasing 12 acts and providing free all-ages action for everyone right up to bedtime at midnight. Sledgehammock will be playing a half-hour show at the Enigma Bar at 10:35, so stop past after seeing The Dairy Brothers at Caos Cafe, and then stick around the Enigma for Ergot.

23/11/04 - Sledgehammock 'in' With News Ltd.
Sledgehammock have made their first steps towards controlling the worlds most influential news organisation with the appearance of an article in the East Torrens Messenger this week. There was no public comment from the Murdoch family today on this event.

14/10/04 - Sledgehammock Caught Practicing for "Local Noise"
Music industry insiders have reported to have heard Sledgehammock preparing for their up and coming live-to-air show on Radio Adelaide's Local Noise on Tuesday the 19th of October. This news casts doubt on the previously reported band suicide, although a complete band lineup change could also explain these events.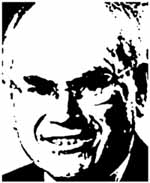 9/10/04 - Sledgehammock Members Suicide!
Sledgehammock are alleged to have suicide after pixilated, low quality video was released on the internet today. Appearing to show the members of Sledgehammock decapitating themselves, it is assumed to be related to tonight's announcement of the Liberal victory in the Australian elections. More news will be posted as soon as available.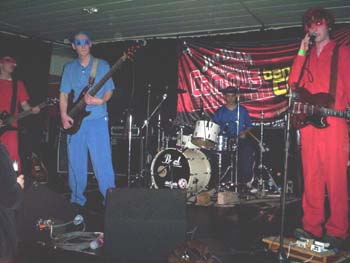 19/9/04 - 2nd Place in State Final
Congratulations to Illicit Eve, who won the S.A state final of the National Campus Band Competition on Friday night. Sledgehammock placed second, with The Dairy Brothers finishing in third place.
31/8/04 - Sledgehammock Win TAFE Band Competition Final!
When it comes to band competitions, the National Campus Band Competition is THE national campus band competition. Sledgehammock are privileged to announce their appearance in the South Australian final after passing the two TAFE qualifying rounds. They will be joined by the TAFE runners up, The Bovines, plus two finalists each from Adelaide Uni, Flinders Uni and UniSA. The state final will be held at Flinders University UniBar on the Friday 17th of September. The winner of the state final gets a trip to Perth for the real thing - the national playoff!

14/8/04 - Radio Adelaide Local Noise Date Confirmed

Tuesday nights on 101.5 FM is Radio Adelaide's Local Noise, featuring live to air performances of local Adelaide bands. Tune in on the 19th of October to hear this very Sledgehammock play to you on the radio! This show will be digitally processed and enhanced for optimum clarity and definition on the two inch speakers in your Datsun.

1/8/04 - EIAHH CD Launch Date Announced


Sledgehammock have arbitrarily named the 10th of September show at Jive as their official Every Inch a Healthy Horse CD Launch. Support acts are our friends from the bands Miracle Hat, Ergot and The Aclinic Line.

1/6/04 - Sledgehammock Enter Hibernation Over Winter
Following the huge show at The Gov on 28/5/04, the band will be taking a short break over the winter months to concentrate on writing new material and other tough "administrative" band duties. While the next gig dates are still to be announced, you will be able to find some new music to download on our MEDIA page.
Currently available is the original 2001 demo of 'Nam, recorded before hyphenated-drummer-extrodinaire James Brown joined the band. This may or may not be joined by some dodgy live bootleg tracks, but the band is planning some recordings for a very special web-only release. Expect to see more music on this site soon!

1/5/04 - Main Stage at The Gov
Sledgehammock will be playing on the main stage at The Governor Hindmarsh Hotel on Friday 28th May with Insect Seeking Technology, Jonestown Syndicate and Qantum Kaos. With Ungkas retiring earlier in the year, the debut show for "the new band" Jonestown Syndicate will be essential viewing. A great venue and lineup like this should not be missed!

16/4/04 - Sex Scandal Threatens Cranker Gig!
With just one week before Qantum Kaos and Sledgehammock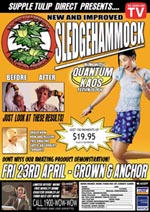 funk up the Crown & Anchor, unsubstantiated rumors of an alleged sex scandal are emerging that could affect the event. The exact nature of the scandal is unknown, as is the specific band or band member involved, but is rumored to involve a sixteen year old female cartoon character, thought to be Daria Morgendorffer. Sledgehammock refused to speak with the media regarding the issue, however an anonymous band member spoke exclusively to this website.
"Any publicity is good publicity. You don't have to be William J. Clinton to know that. I did not have sexual relations with that woman."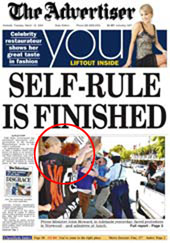 16/3/04 - Sledgehammock's ASIO file update!
Government sources report that Sledgehammock were sighted at an anti-Howard protest at the Norwood Town Hall. They joined a "diffuse coalition of about 50 protesters encompassing the National Union of Students, the Australian Conservation Foundation, the Greens, and various independent dissidents." (Advertiser, 16/3/04). Since not getting a specific mention, it is assumed they were part of the independent dissidents.

6/03/04 - Every Inch a Healthy Horse
Sledgehammock's new EP, Every Inch a Healthy Horse is now available!


Already drawing praise from the automotive electrical industry, this four track recording features a small selection of Sledgehammock's diverse musical variety. Although the official CD launch has yet to be scheduled, drinks and nibbles have already been organised for the occasion. Date, venue and supports will be announced on this page once confirmed.
Copies of Every Inch a Healthy Horse can be ordered from the SALE! section of this website or downloaded FREE from our MEDIA page (R.I.P. Napster).

1/03/04 - www.sledgehammock.com is online!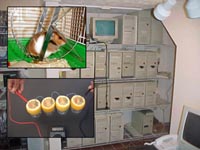 Adelaide's funk/rock band Sledgehammock would like to welcome you to their brand new website at http://www.sledgehammock.com/ At the moment you can find some info about the band and download mp3's of their music. Further content will be added over the next couple of weeks, so check back here often.