Sledgehammock's Human Components:
---
Nick

James

Conor

Patrick

Lead Vocals
Lead Guitar

Lead Drums

Lead Guitar
Lead Keyboards
Lead Vocals

Lead Bass
Lead Vocals
---
Sledgehammock's Bio:
Sledgehammock began in August 2000, when founding members Nick Steele (guitar, vocals) and Patrick Tapping (bass, vocals) started working on ideas for a Commodore64 music concept band.Initially working with drum machines, the limits of such an idea were soon realised and the two decided to expand, both on their ideas and line-up.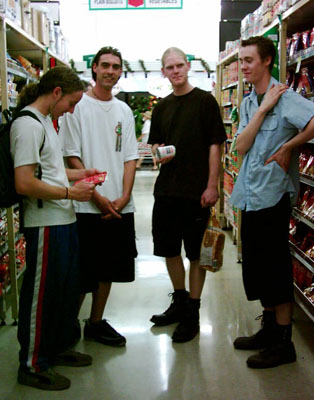 Drummer James Brown and Guitarist/Keyboardist Conor Kinsella were recruited, and before long Sledgehammock evolved into a satirical funk/rock band, far from its C64 origins.
Since their conception, Sledgehammock have established themselves as one of the more eclectic acts in the Adelaide live scene. Incorporating elements of bass heavy funk with cheesy guitar hooks and smooth vocals, the band use their lyrics to convey a highly cynical outlook on life, music and world politics. Over the last few years the band have made it to the finals of the Adelaide Uni Band Competition three times, played at Fringe events in 2002 and 2004, as well as having played at numerous established Adelaide venues such as the Governor Hindmarsh, The Austral and the Crown and Anchor.
Sledgehammock currently have two recordings to their name, the two-track demo 'NAM, and the recently released EP, Every Inch A Healthy Horse.
Click to download the bio and photo in PDF format
Bookings can be made by contacting bookings@sledgehammock.com